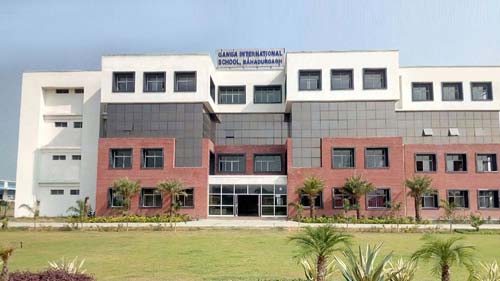 Ganga International School, Bahadurgarh is an initiaive of Pawan Ganga Educational Society, set up in the lush green stress free environment of Bahadurgarh with a vision to develop students with active and creative minds, a sense of understanding and compassion for others. The School was established in the year 2014 under the aegis of Pawan Ganga Educational Society, consisting of eminent educationists and philanthropists, which is running many other educational and social institutions also.
We at GISB provide active, reflective and creative learning in an environment enriched with support, encouragement and assistance to stress on the all-round development of each child: spiritual, moral, intellectual, social, emotional, and physical. Here each child develop his or her fullest potential through a fully integrated curriculum so that they may grow in grace, enjoy freedom through knowledge, and lead a healthy, productive and meaningful life. GISB is known for the quality of its teaching and personality development. However, what sets the school aparts the high quality of its teaching staff, and its focus on a carefully balanced preparation to enjoy a successful experience in higher education. Our mission is to create a community of learners working together in a safe and challenging learning environment that encourages dignity, enthusiasm, involvement, independence and responsibility through high expectations and cooperation resulting in life-long learning and personal growth.
We use innovative techniques to enhance lifelong learning through technology, multiple intelligences, varied instructional strategies, and interdisciplinary units to promote sportsmanship, academic excellence, integrity, leadership, and responsible citizenship.